"Our guest critic, the independent curator, critic and regular reviewer for ArtReview magazine, Laura McLean-Ferris, makes another selection of outstanding artists on artreview.com. See her selection last week here
.
(...)
Moving swiftly on, João Pombeiro is from Portugal, and studied at ESAD, in Caldas da Rainha, where he now lives and works. Continuing with the theme of that which refuses to die, we find his work peppered with the kinds of 'branding' styles that we have come to expect from artist like Damien Hirst or Daniel Buren, which now come back to rest on everyday domestic objects. The stripes on this chair certainly look like the work of the latter.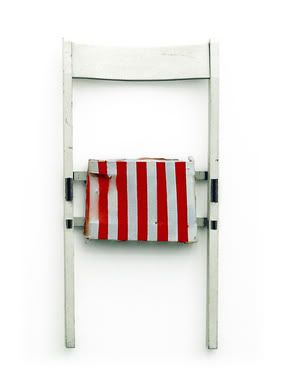 João Pombeiro, Chair, 1998
And this first aid kit the kind of motif used by the former...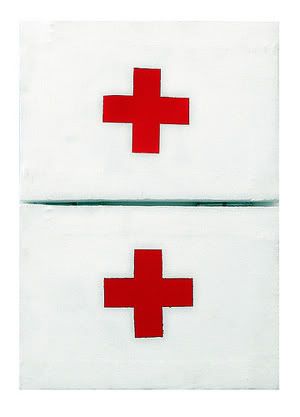 João Pombeiro, 1st Aid Kit, 1999
This seems to be almost an exercise in 'putting back' these objects and symbols of the everyday into their original domestic context, and examining how they've been changed by this transformative process. Perhaps a clue is to be found in one of Pombeiro's text pieces: a circle of text which states: 'Every art definition follows a circular logic' - and perhaps this is the final stage in the circular process. Pombeiro has a solo exhibition (titled, unsurprisingly: Meaninglessness), which has just opened in Lisbon Galeria Paulo Amaro for those of you planning summer trips.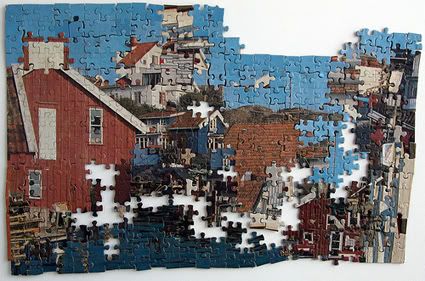 João Pombeiro, Landscape, 2000
This scrambling of references works like a virus, creating a humorous dialogue about meaning and meaninglessness in art. Does such pilfering strip the colour, shape or work of content, or is meaning and content created in the process? In Landscape for example, both the landscape itself and the history of landscape painting and photography gets scrambled together along with references to artists who used jigsaw puzzles in their work: Felix Gonzalez-Torres and Georges Perec are two that spring to mind."
Written by
Laura McLean-Ferris
Published by
Artreview.com